The Payment Calculator is a tool that provides estimated lease payments based on lease amount, payment frequency, and pricing tier.
The Payment Calculator makes it easy for you to estimate the renewal payments on any Kafene lease and share that information with potential customers to aid in their decision-making process.
Table of Contents
Accessing the Payment Calculator
The Payment Calculator is always accessible via a link that says Payment Calculator in the top navigation of your Merchant Dashboard. When you click that link, the Payment Calculator will pop up as a modal on top of whatever dashboard page you are currently on.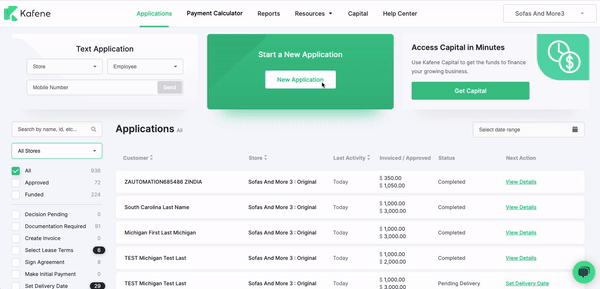 Calculating Estimated Payments
Once the Payment Calculator is open, you will see four input fields.
The first field, State, will default to the state of the store's location and cannot be adjusted.
The next field offers the option to choose a Payment Frequency of Weekly, Every Other Week, or Twice a Month. This lease payment frequency should match your customer's proposed payment schedule and impacts the size and number of payments in the final output. As guidance, the more frequent the payments, the lower each one will be, but the sum of all payments will remain the same.
The third field is Pricing Tier. Kafene offers three pricing tiers: Plus, Preferred, and Premier. Each tier offers different programs and payment amounts, with Premier offering
the lowest payments. The customer's actual tier will be determined by the information in
their application.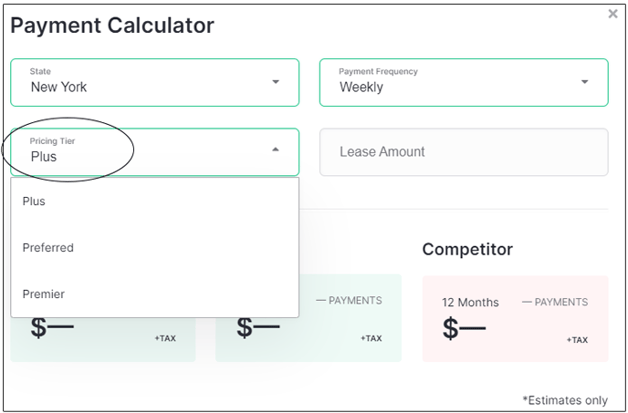 The fourth field is the Lease Amount field. To get a payment estimate, total the amounts
of the merchandise the customer is considering leasing, and enter that total into this field.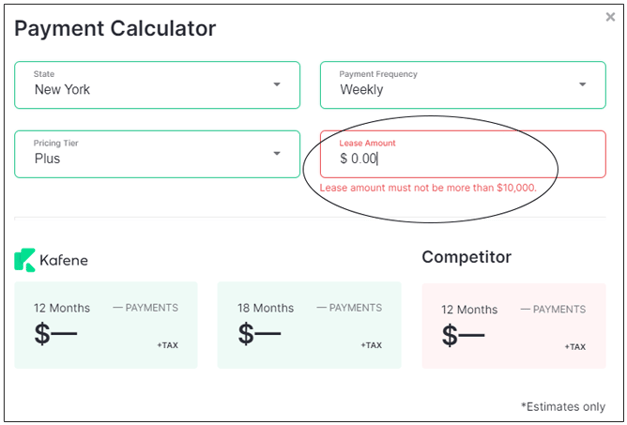 After selecting the Payment Frequency, the Pricing Tier, and entering the anticipated Lease Amount, the Kafene estimated payment amount will be calculated automatically and displayed in the green boxes at the bottom of the modal, including the number of payments.
To the right of that will be an estimated competitor price for the same sample lease over a 12-month term.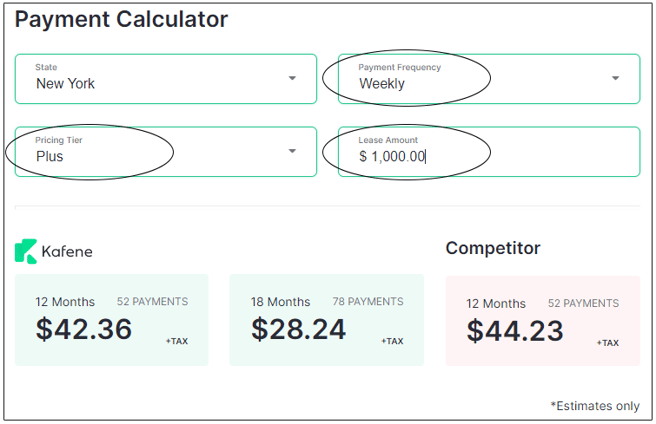 Note: Each payment is a pre-tax estimate and the customer's applicable tax rate will
be added to the payment if they complete a lease.

You can then change the payment frequency, pricing tier, or lease amount and the estimated payments will be automatically adjusted accordingly.
Note: All amounts shown in the calculator are estimates. Actual lease payment amounts will be displayed on the signed lease agreement.