Help your customers choose the best lease payment terms.
After adding all merchandise to the lease, work with the customer to select their payment terms, explaining how each program works and determining which option is best for them.
Table of Contents
Select Payment Terms Page
Kafene offers three different tiers of leasing programs based on a customer's application information. The highest qualified customers will qualify for the Premier tier, the next level will be Preferred, and the level after that will be Plus.
Depending on which tier the customer qualifies for, they will be presented with a choice of different programs on the Select Payment Terms page.
The exact program details will vary by state. Below is an example of what this page will look like: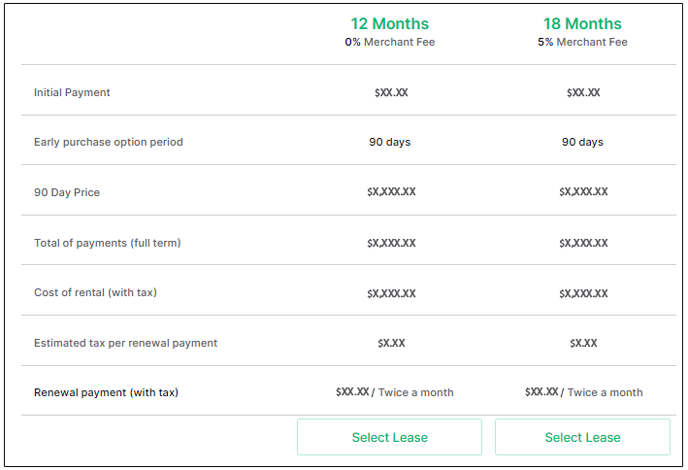 Here is what each aspect of the table means:
Ownership Term: The number of months listed at the top of the lease is how long it will take the customer to earn full ownership of the merchandise if they complete the entire term of the lease.
Merchant Fee: A percentage fee paid by the merchant based on the total price of the merchandise plus applicable delivery charges
Initial Payment: The total dollar amount the customer will pay with a credit or debit card after signing the lease agreement
Early Purchase Option Period: The number of days available to the customer to exercise their early purchase option
90 Day Price: The price that the customer will pay if they exercise their early purchase option in the first 90 days. In certain programs this is called a 180 Day Price, and in California, it is called the Kafene Cash Price (which is the 3 months price).
Total of Payments (Full Term): Total price (including tax) the customer will pay over the term of the lease, provided all payments are made
Cost of Rental (with tax): Equal to the Total of Payments minus the 90 Day Price (or 180 Day Price or Kafene Cash Price); includes tax
Estimated Tax per Renewal Payment: The estimated tax amount for each lease renewal payment
Renewal Payment (with Tax): The amount the customer will pay for each lease renewal payment, along with how frequently the payment will be made (weekly, every other week, twice a month)
After the customer has selected a payment terms option, click the Select Lease button at the bottom of that column to move forward to the Sign Agreement step.
Next Steps
Now that you have added merchandise to the lease and selected the lease payment terms, it's time to sign the lease agreement!