Review the requirements, timing, and process for funding of leases.
The Kafene lease funding process is tied to the delivery of customer merchandise
and is executed via daily batched deposits in merchant accounts Monday through Friday,
excluding bank holidays. This article provides the details of the process so merchants know exactly what to expect.
Table of Contents
Preparing a Lease for Funding
Once a customer has received all of their merchandise, the merchant can mark that lease as delivered. The lease is now queued for funding and will be part of the next scheduled batch of leases to be funded for the merchant.
NOTE: Do not mark a lease as delivered unless you have confirmed delivery with the customer. If a lease is incorrectly marked as delivered, it can lead to significant issues in the funding process.

Timing of Fundings
Every successfully delivered lease should be funded to a merchant's bank account on file within two business days of being delivered. Funding batches are processed every business day, Monday through Friday, excluding bank holidays. Please note that there is a daily cutoff time of 12:30 PM ET, which means that any leases marked as delivered before that time will be funded the next business day, while leases marked after that time will process on the next business day.
NOTE: Funding batches mean that merchant accounts are funded in aggregate for all leases delivered in the period since the previous batch was funded. For more detail about specific leases, see the Funding Communication section.
Funding Amount
Each successfully delivered lease is funded for 100% of the pre-tax price of the merchandise delivered, including any delivery fees, but less any merchant fees where applicable. The funds are deposited into the merchant's bank account on file via ACH and will appear from Kafene Inc.
Funding Communication
There is information about a lease's funding status both on the Merchant Dashboard and in specific emails sent directly to the merchant's email on file.
On the Applications page of the Merchant Dashboard, a funded lease has a status of Completed and a small gray $ sign in the top right of its listing in the Applications Table.



Additionally, in the panel for any funded lease you will be able to see the Funded Amount and Funded Date.



For additional information, you can also view the Funding Information section on any individual lease detail page. From the Merchant Dashboard, select the completed lease you would like to review and click View Details.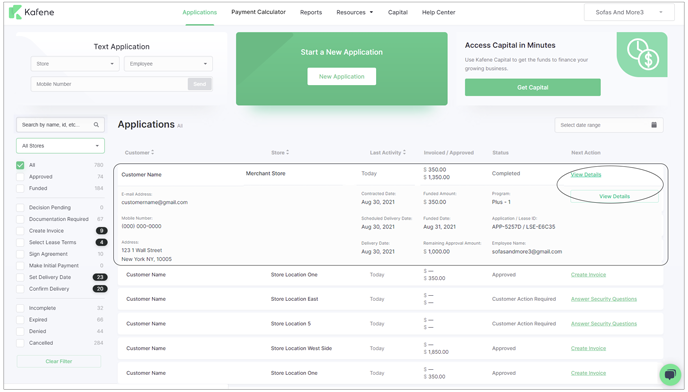 The window that opens will show that the lease has been signed and completed. Scroll down the page and you will find the Funding Information section.

Merchants also receive email confirmation of all funding activity. An automated email is sent to each store each time they have a funding batch initiated. The body of that email includes details about how much was funded to the store and for what time period: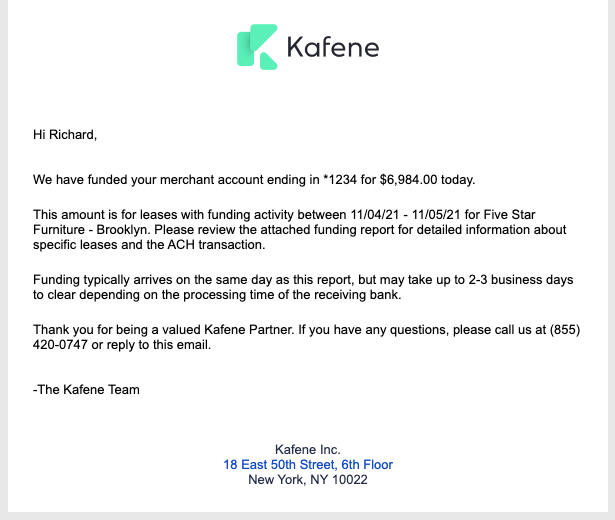 Additionally, attached to each funding email is a detailed report with a breakdown of all leases that were included in the relevant funding batch, along with their relevant funding activities and amounts. This can be a combination of newly completed leases and potential adjustments to earlier leases. See below for an example: