Learn how to get started and what information is needed to complete a lease application.
A lease application is where a customer will begin their relationship with Kafene, so it is important to know what information is needed to accurately complete the application. The process only takes a few minutes and ends with an immediate decision for the customer.
Table of Contents
Customer Requirements
Before starting a new application, confirm that the customer satisfies the following leasing requirements:
18 years of age or older
Have valid government-issued identification
Income is greater than $800 per month
Active bank checking account
Start a New Application
Go to the merchant dashboard and click the New Application button in the Start a New Application box at the top of the page.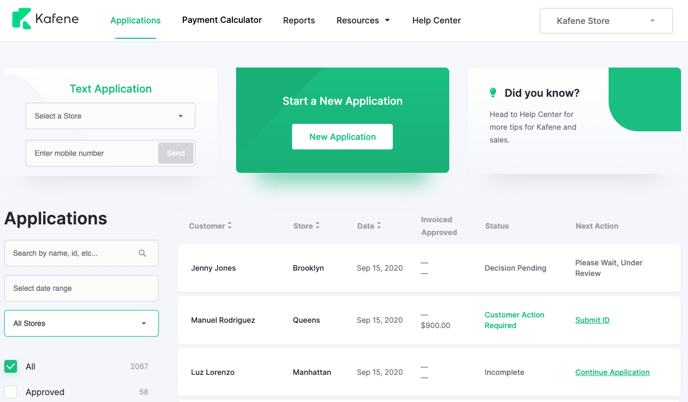 Fill Out the Application
Work with the customer to complete all fields within the application.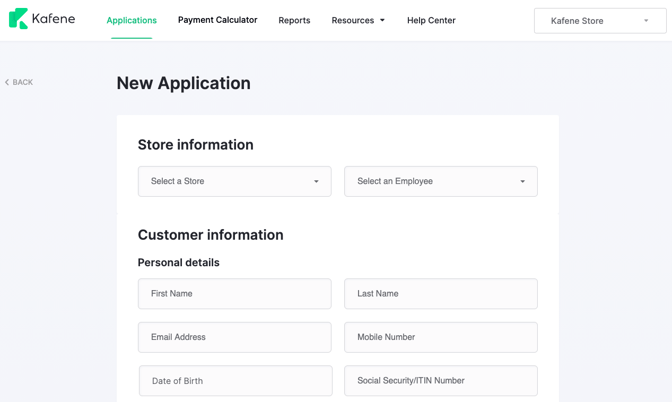 Store Information
Select a Store: Specific store where the application is being submitted

Select an Employee: Name of the employee submitting the application
Customer Information
First Name: Customer's first name

Last Name: Customer's last name
Email Address: Customer's primary email address
Phone Number: Customer's primary phone number, preferably mobile phone
Date of Birth: Customer's date of birth (customer must be 18 or over to get approved)
Social Security/ITIN Number: Customer's social security number or ITIN
Residential Address: Street Address, Apartment number, City, Zip Code, State
ID Type: Customer's government ID type
ID Number: ID number on customer's government ID
State: State where the customer's government ID was issued
Customer Income
Monthly Income (Pre-Tax): Customer's pre-tax monthly income amount
Income Frequency: Customer's current regular schedule for receiving income
Last Income Date: Date of customer's most recent receipt of income
Next Income Date: Expected date of customer's next receipt of income
Customer Bank Account Information
Routing Number: Customer's bank account routing number
Account Number: Customer's bank account number
Connect Bank: Customers can use their online login credentials to connect their bank account to Kafene rather than entering details manually
Policy Acknowledgements
The customer must read, then acknowledge and accept the first two policies by selecting the checkboxes before proceeding with the application. The third policy, although optional, is recommended.
Select the first checkbox after the customer has read and agreed to Kafene's Terms and Conditions, Online Privacy Policy, GLBA Privacy Notice, E-sign Disclosure and Consent, and Prohibited Conduct policy.
Select the second checkbox after the customer has read and agreed to allow Kafene to obtain reports about them from consumer reporting agencies. This will not negatively impact their credit score.
Select the third box after the customer has read and agreed to be contacted by Kafene by email or phone regarding the lease agreement.
Submit the Application
After the application has been completed, press the Submit Application button. An immediate response with a decision will be provided.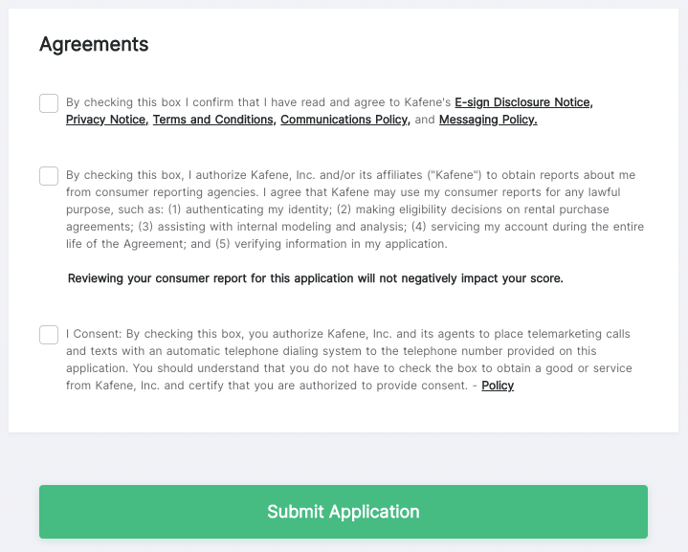 Application Decision Responses
After an application is submitted, one of three responses will appear in a pop-up window. Details for each response are explained below:
Approved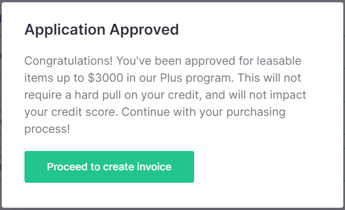 If a customer's application is approved, a pop-up window will appear on the application screen showing the customer's approval amount. It will also show the program they are qualified for, which determines their potential lease payment terms. From here go to: Adding Merchandise to a Lease.
Denied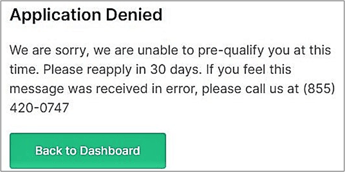 If a customer's application is denied, the customer cannot lease merchandise at this time, but can re-apply again in 30 days. If you or the customer have any questions about the decision, Kafene's Customer Service phone number is provided (as shown above). The customer will also receive an email with more information.
Customer Action Required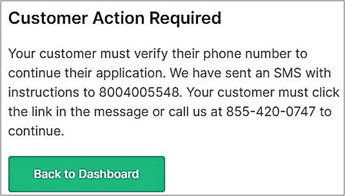 If a customer's application cannot be immediately approved or denied, Kafene will contact
the customer via SMS for more information to complete the application decision process.
If the customer does not receive an SMS from Kafene, you or the customer may call Kafene
for assistance.
Next Steps
For customers who have received an approval, the next step is to create an invoice by Adding Merchandise to a Lease.