Learn where to get started and what information you will need to complete a lease application for your customer.
The lease application is where your customer will begin their journey with Kafene, so it's critical that you know exactly how to fill out the application and what information you will need. The whole process only takes a few minutes and ends with an immediate approval or decline for your customer.
Table of Contents
Customer Requirements
Before you get started with an application, please confirm the following pieces of information about your customer:
They are 18 years of age or older at the time of the application
They have an income greater than $1,000/mo
They have an active checking account at a bank
Once you've confirmed that your customer meets these minimum requirements, it's time to kick off their application!
Start a New Application
To start a new application, simply visit your merchant dashboard and click the New Application button in the top row of options.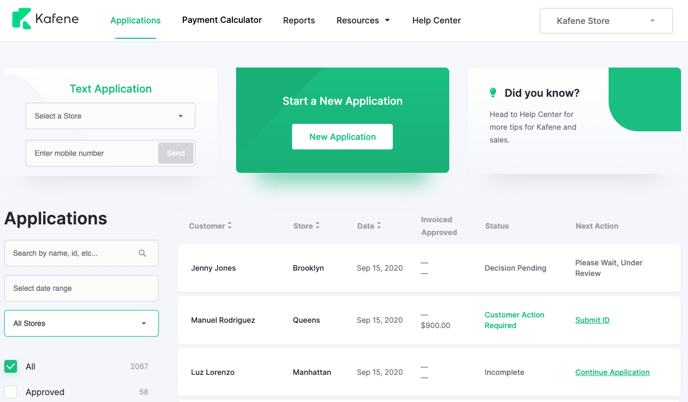 Fill Out the Application
Your new application screen should look like this: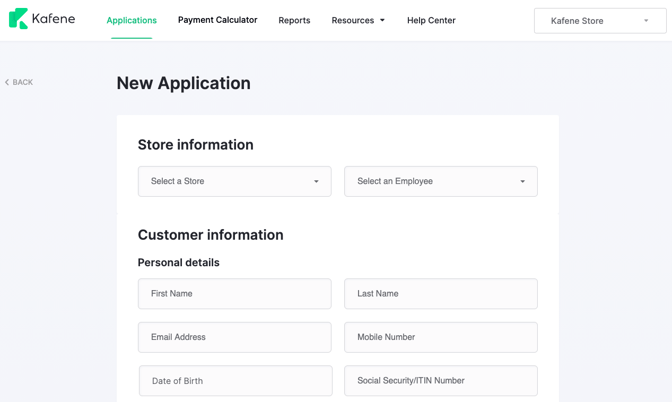 Work with your customer section-by-section to fill out their details. We'll review what you need for each section.
Store Information
Select a Store: Choose of the specific store for which the application is being submitted
Select an Employee: Choose the name of the employee submitting the application
Customer Information
First Name: Customer's first name
Last Name: Customer's last name
Email Address: Customer's primary email address
Phone Number: Customer's primary phone number, preferably mobile phone
Date of Birth: Customer's date of birth (customer must be 18 or over to get approved)
Social Security/ITIN Number: Customer's social security number or ITIN
Street Address/Apt. Number/City/State/Zip Code: Customer's home address information
ID Type: Customer's government ID type
ID Number: Number of customer's government ID
State: State in which customer's government ID was issued
Income
Monthly Income (Pre-Tax): Customer's pre-tax monthly income amount
How Often Do You Get Paid?: Customer's current regular payment schedule
Last Pay Date: Date of customer's most recent paycheck
Next Pay Date: Expected date of customer's next paycheck
Bank Account Information
Routing Number: Routing number for customer's bank account
Account Number: Account number for customer's bank account
Connect Bank: Allow customer to directly connect their bank account to Kafene via their online login credentials. If they prefer to do it manually, they will need to fill out the following two fields.
Policy Acknowledgements
Your customer must acknowledge the first two checkboxes here in order to proceed with their application. The third checkbox is optional, but recommended.
Check the first checkbox if your customer has read and agreed to Kafene's E-sign disclosure notice, Privacy Notice, Terms and Conditions, and Privacy Policy.
Check the second checkbox if your customer agrees to a soft pull on their credit. This will not affect their credit score.
Check the third box if your customer agrees to be contacted by Kafene via email or phone in relation to their lease agreement.
Submit the Application
Once you and your customer have completed the entire application, press the Submit Application button at the bottom right of the page.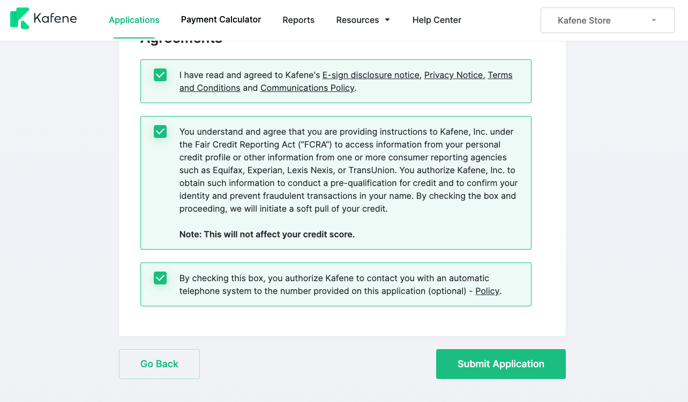 After pressing Submit Application, you will get an immediate response to your customer's application based on the information that you have entered for them.
Next Steps
Your customer can get one of three results upon submission of their application.
Here are the options:
Approval: If your customer is approved for a lease, you will get an immediate notification of their approval amount, along with the program tier that they are in. Check out our article about how to add merchandise to a lease to learn more.
No Approval: If your customer is unable to be approved for a lease at the time of submission, you will get an immediate notification of this information, along with a phone number to call with any questions.
Further Review: In certain cases, Kafene will need more information about your customer before rendering a decision. In these cases, Kafene will reach out to your customer directly for that information to make a decision on their application.